Boss Battles
Edit
Spider Tank Battle
Edit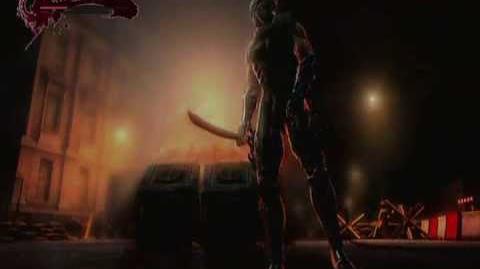 To defeat the Spider Tank, make sure to take out the four rear legs one by one.

The game will enter into a quick time event right before each leg is destroyed.

Once the four legs are destroyed, then the generator becomes open to attack.
Attack the generator to fully destroy the Spider Tank.
Regent of the Mask Battle
Edit
This is the first time you fight the Regent of the Mask
Make sure to use the sliding dodge move, then attack when his defenses are down
Halfway through the battle, you are both thrown through a window

The fight then resumes outside
Helicopter Battle
Edit
This is a long fight with many different stages
First, shoot the helicopter with the bow
Run upstairs and continue to shoot the helicopter
There is a save point coming up, make sure to save and get your health replenished
Take out all of the enemies on the train
There is another save spot at the top of the building
When fighting the final massive helicopter, make sure to target the missile launchers on the wings, and not the cockpit
Wait until the turrets on the wings have stopped shooting before attacking. The light on the turret will be yellow when the attack window is ready.
Goddess Boss Battle
Edit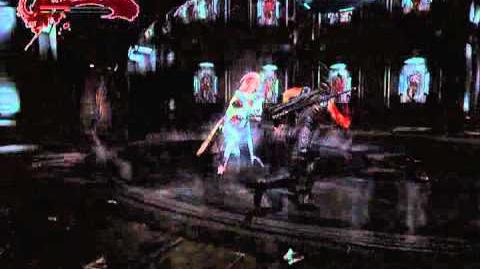 This is a pretty basic boss battle
Keep hacking and dodging until you have cut off all of the Goddesses arms
At the end, there will be a quick time event to cut the head in half
Obaba Boss Battle
Edit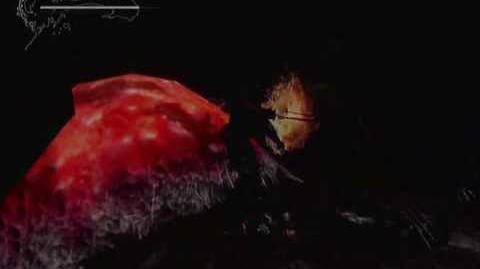 Kill all of the enemies in the areas
Attack the massive glowing red bumps until you enter a quick time event and they are destroyed
Watch out for the bumps on the hands of the boss

these need to be shot at with the bow

Keep destroying the red bumps until the boss is dead
Make sure to use your Dragon technique to heal yourself
Ad blocker interference detected!
Wikia is a free-to-use site that makes money from advertising. We have a modified experience for viewers using ad blockers

Wikia is not accessible if you've made further modifications. Remove the custom ad blocker rule(s) and the page will load as expected.