| | |
| --- | --- |
| | |
| | | |
| --- | --- | --- |
| | | Ninja Gaiden 3: Razor's Edge |
| | | |
| --- | --- | --- |
| | | |
‹
›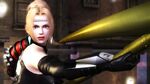 Rachel is an esteemed Fiend Hunter and the female protagonist of Ninja Gaiden (Xbox)
After her sister Alma was turned into a greater fiend, Rachel began hunting fiends. Ryu crosses her path outside Han's bar. After Ryu saves her from a fiend, the two begin to work together to an extent. Rachel always carries with her her War Hammer. She becomes a playable character in Ninja Gaiden Sigma.
Main article: Rachel
Ninja Gaiden Wiki Twitter

Ninja Gaiden Wiki Facebook Page

-- Watercooler --

-- Help desk --

-- Maintenance--

-- Speculation --

Affiliated and Related Wikis

361 articles since March, 2008
1,995 images uploaded since March, 2008
16,591 edits made since March, 2008

Ninja Gaiden Wiki Poll Results

Last poll results:
What is your opinion on Ninja Gaiden 3's multiplayer?

Love it: 18 votes
Only like Vs mode: 0 votes
Only like Co-op mode: 0 votes
Unsure: 8 Votes
Like it but wish there was offline split screen: 0 votes
Hate it: 2 votes
How would you rate Ninja Gaiden 3 after playing it?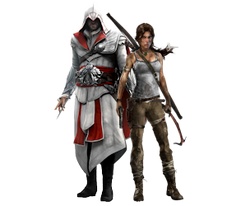 Action-Adventure Games
Go to these sites for info or for help with your own wiki!
ARK: Survival Evolved • Assassin's Creed • Bayonetta • The Binding of Isaac • Castlevania • Darksiders • Days Gone • Devil May Cry • Fran Bow • God Eater • Grand Theft Auto • Gravity Rush • HITMAN • Horizon Zero Dawn • InFAMOUS • Just Cause • King's Quest • L.A. Noire • The Last of Us • Legacy of Kain • Legend of Zelda • LEGO Dimensions • LEGO Marvel and DC • Lightseekers • Mafia • Metal Gear • Monster Hunter • Ninja Gaiden • Ōkami • Prince of Persia • Red Dead • Senran Kagura • Shenmue • Sleeping Dogs • Space Quest • Splinter Cell • Subnautica • System Shock • Tomb Raider • Uncharted • Watch Dogs • Yakuza
Want your community included? See how!