| | |
| --- | --- |
| | |
| | | |
| --- | --- | --- |
| | | Ninja Gaiden 3: Razor's Edge |
| | | |
| --- | --- | --- |
| | | |
‹
›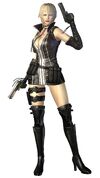 Sonia is a CIA agent and the female protagonist of Ninja Gaiden II.
She tracks down Ryu to Sky City and asks for his help. Ryu stops her from being captured initially but the greater fiends are eventually able to capture her. Ryu descends into the underworld to save her and defeats the greater fiend Alexei in order to do so. The two starts a relationship afterwards.

Main article: Sonia
Ninja Gaiden Wiki Twitter

Ninja Gaiden Wiki Facebook Page

-- Watercooler --

-- Help desk --

-- Maintenance--

-- Speculation --

Affiliated and Related Wikis

359 articles since March, 2008
1,974 images uploaded since March, 2008
15,886 edits made since March, 2008

Ninja Gaiden Wiki Poll Results

Last poll results:
What is your opinion on Ninja Gaiden 3's multiplayer?

Love it: 18 votes
Only like Vs mode: 0 votes
Only like Co-op mode: 0 votes
Unsure: 8 Votes
Like it but wish there was offline split screen: 0 votes
Hate it: 2 votes
Create blog post
Latest Posts





















Both of the Greatest Game characters finally face in a showdown so the question is Who would win in a fight between Death the Reaper from Darksiders 2 and Ryu Haybusa the Dragon Slayer from Ninja Gai…

Read more >
See more >
How would you rate Ninja Gaiden 3 after playing it?