Jo Hayabusa is a master ninja and the head of the Hayabusa Ninja Clan.
A ninja of the highest caliber, Jô has faced many challenges in his life, facing down the Vampires before facing his rival Genshin. Jô is the father of Ryu Hayabusa.
Main article: Jo Hayabusa
Ninja Gaiden Wiki Twitter

Ninja Gaiden Wiki Facebook Page

-- Watercooler --

-- Help desk --

-- Maintenance--

-- Speculation --

Affiliated and Related Wikis

359 articles since March, 2008
1,993 images uploaded since March, 2008
16,498 edits made since March, 2008

Ninja Gaiden Wiki Poll Results

Last poll results:
What is your opinion on Ninja Gaiden 3's multiplayer?

Love it: 18 votes
Only like Vs mode: 0 votes
Only like Co-op mode: 0 votes
Unsure: 8 Votes
Like it but wish there was offline split screen: 0 votes
Hate it: 2 votes
How would you rate Ninja Gaiden 3 after playing it?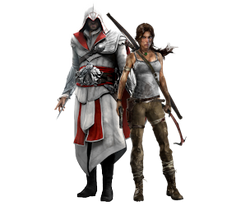 Action-Adventure Games
Go to these sites for info or for help with your own wiki!
ARK: Survival Evolved • Assassin's Creed • Bayonetta • The Binding of Isaac • Darksiders • Days Gone • Devil May Cry • Dragon's Crown • Fran Bow • God Eater • Grand Theft Auto • Gravity Rush • HITMAN • Horizon Zero Dawn • InFAMOUS • Just Cause • King's Quest • L.A. Noire • The Last of Us • Legacy of Kain • Legend of Zelda • LEGO Dimensions • LEGO Games • LEGO Marvel and DC • Lightseekers • Mafia • Metal Gear • Monster Hunter • Ninja Gaiden • Ōkami • Prince of Persia • Red Dead • Senran Kagura • Shenmue • Sleeping Dogs • Splinter Cell • System Shock • Tomb Raider • Uncharted • Watch Dogs • Yakuza
Want your community included? See how!

Ad blocker interference detected!
Wikia is a free-to-use site that makes money from advertising. We have a modified experience for viewers using ad blockers

Wikia is not accessible if you've made further modifications. Remove the custom ad blocker rule(s) and the page will load as expected.