This is an anti-Fiend Machine gun used by Rachel in
Ninja Gaiden Sigma II
.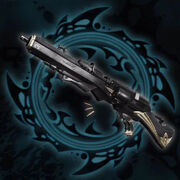 An anti-Fiend machine gun inscribed with special markings. Most would consider it unwieldy, but Rachel's slender arms are more than a match for this monster. Barrel and ammunition are stamped with an anti-Demon icon called an "Elder Sign", boosting its power when used against lower-level Fiends. Designed for rapid fire, it utilizes a blow-back system for low recoil. An elegant, uncompromising, superbly made firearm.
When using this weapon, the player must fire at rapid succession in order to use the rapid fire effect.
Rapid firing leaves Rachel vulnerable, as she doesn't put the weapon away as quickly as other characters.
666 is the Number of the Beast in the Bible
Ad blocker interference detected!
Wikia is a free-to-use site that makes money from advertising. We have a modified experience for viewers using ad blockers

Wikia is not accessible if you've made further modifications. Remove the custom ad blocker rule(s) and the page will load as expected.