Yaiba's Weekly Backhand: Gymkata was the second blog post in the Yaiba's Weekly Backhand blog hosted on the Yaiba: Ninja Gaiden Z website. It was originally posted September 25, 2013.
Transcript
Edit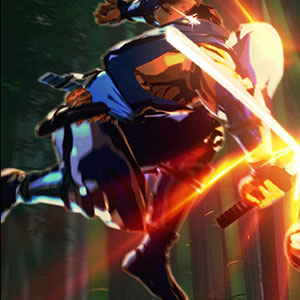 It takes a lot to be ninja. A lot of rookies think you can throw on your least faded black shinobi shozoko and call it a day. But it takes a lot more than separating your darks from your whites in the laundry to be a real ninja. In 1985′s cult catastrophe, Gymkata, a lone gymnastic warrior—and I use that term loosely—must compete in a poorly defined Game. All of this takes places in the who-gives-two-shits fictional country of Parmistan located in the Hindu Kush mountains.
One look at the movie poster for Gymkata and who wouldn't think, "So the idiot in the unitard falls on top of some ninjas and they kick his ass six ways to Sunday, right?" WRONG. In fact, he's the "hero" tasked by the U.S. Government to compete in the Game just so they can build some satellite tracking station in Parmistan when he wins. He's an errand boy! But, on the off chance international relations doesn't get your motor going, he also needs to find his father who disappeared while competing in the last Game. (I can think of another sucker who blindly goes halfway around the world chasing after Daddy… and he's the same sonuvabitch who took my eye and arm.)
But the most insulting part of Gymkata is that there are no actual ninjas! Though you might have guessed that from the submachine gun one of them is dropping on the poster. Talk about false advertising. Before what passes for action kicks into middle-gear, half those pseudo-ninjas are standing around in broad daylight waving flags and generally being as obvious as you can imagine. Worst of all, they aren't killing anyone.
The movie's tagline says "The skill of gymnastics. The kill of karate." What they don't realize is that killing is the only skill that matters. And everything else? Well, that's all bullshit.
External Links
Edit
Yaiba's Weekly Backhand: Gymkata
Ad blocker interference detected!
Wikia is a free-to-use site that makes money from advertising. We have a modified experience for viewers using ad blockers

Wikia is not accessible if you've made further modifications. Remove the custom ad blocker rule(s) and the page will load as expected.